Everything you need in one package
Get Gmail, Docs, Drive, and Calendar for business
All you need to do your best work, together in one package that works seamlessly from your computer, phone or tablet.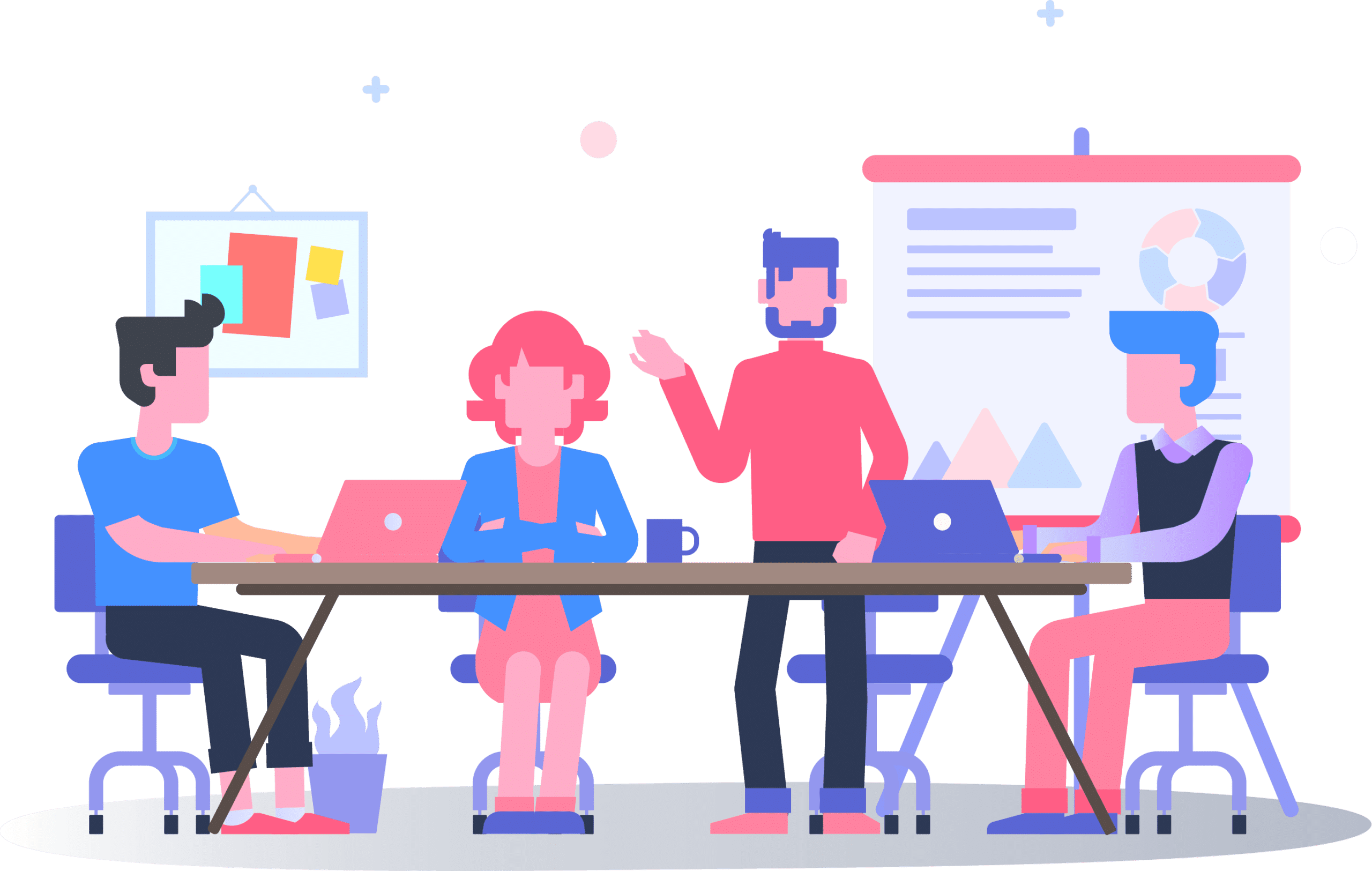 Our Licence Options
See why millions of businesses love and rely on Google Workspace for their business needs!
Secure, private, ad-free email for your business
Gmail keeps you updated with real-time message notifications, and safely stores your important emails and data. IT admins can centrally manage accounts across your organization and devices.
Get custom email @yourcompany
Build customer trust by giving everyone in your company a professional email address at your domain, like [email protected] and [email protected]. Also create group mailing lists, like [email protected]
Work without interruption
Access your email anytime, anywhere, on any device – no Internet connection needed. Read and draft messages without connectivity, and they'll be ready to send when you're back online.
Integrated online calendars designed for teams
Spend less time planning and more time doing with shareable calendars that integrate seamlessly with Gmail, Drive, Contacts, Sites and Hangouts so you always know what's next.
Smart scheduling for meetings
Schedule events quickly by checking coworkers' availability or layering their calendars in a single view. You can share calendars so people see full event details or just if you are free.
Access from your laptop, tablet or phone
View and edit your schedule from your phone or tablet. Use our optimized mobile apps or sync with your phone's built-in calendar.
Video meetings for your business
Connect with your team from anywhere. With easy-to-join video calls, you can meet face to face without the added cost of travel.
Enjoy frictionless meetings.
Meet takes the headaches out of joining a video call at work. Just set up a meeting and share a link. No worrying about whether teammates, clients, or customers have the right accounts or plug-ins. With a fast, lightweight interface and smart participant management, multi-person video calls are a breeze.
Designed for every kind of business.
Meet is fully integrated with Google Workspace, so you can join meetings directly from a Calendar event or email invite. All of the important event details are right there when you need them, whether you're joining from a computer, phone, or conference room.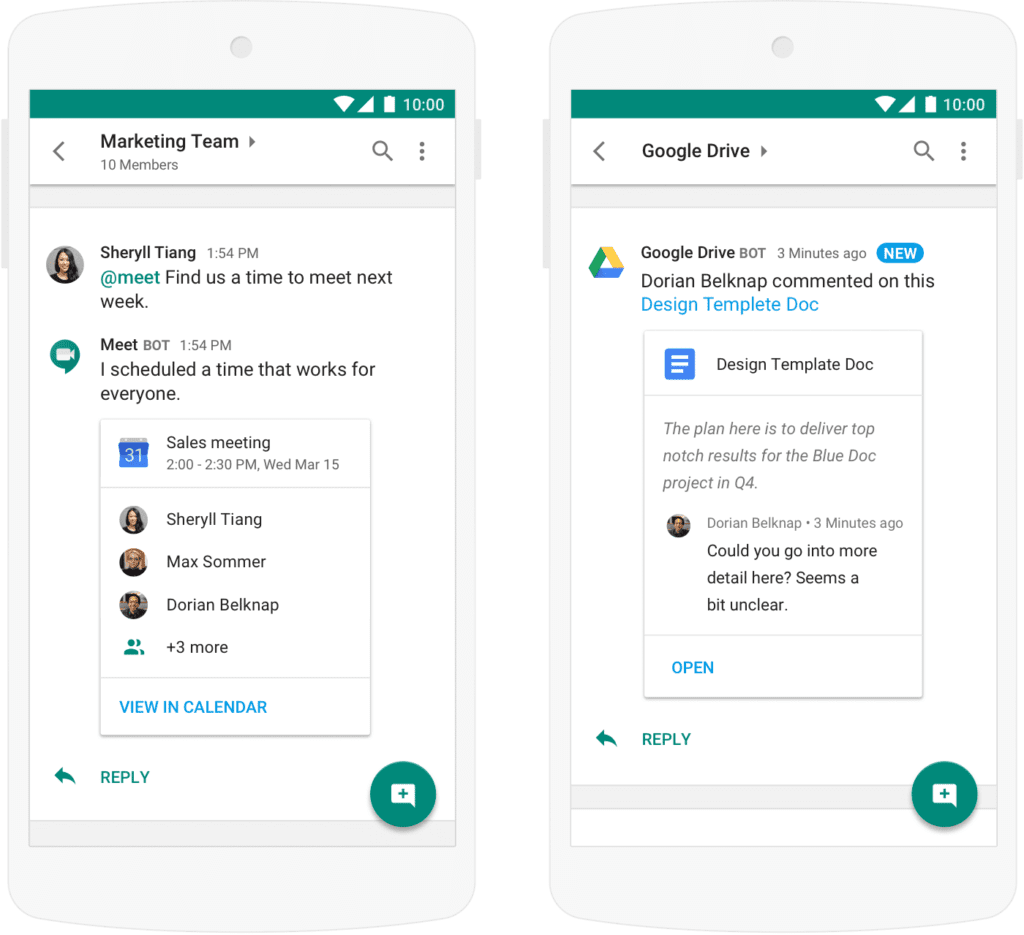 A messaging platform built for teams
Hangouts Chat makes it easy for teams to be able to get their work done in one place. From direct messages to group conversations, Chat helps teams collaborate easily and efficiently. With dedicated, virtual rooms to house projects over time — plus threaded conversations — Chat makes it simple to track progress and follow up tasks. Chat currently supports 28 languages and each room can support up to 8,000 members.
Deeply integrated with Google Workspace
Hangouts Chat is offered to Google Workspace customers at no additional cost. Upload items from Drive, collaborate on Docs, Sheets, or Slides, join online meetings with Hangouts Meet, or use Google's powerful search to look up room members, past conversations, and shared files. Drive bot lets you know when files are shared with you, comments are made, or when people request access to your docs. And Meet bot integrates directly with Calendar to schedule meetings for you.
Word processing for teams
Create and edit text documents right in your browser—no dedicated software required. Multiple people can work at the same time, and every change is saved automatically.
Commenting, chat and real-time editing
Work in a single document with teammates or people outside your company. See edits as others type, communicate through built-in chat and ask questions through including comments.
Works with all popular file types
Import your documents to make them instantly editable, including Microsoft® Word and PDF files. Export your work in .docx, .pdf, .odt, .rtf, .txt or .html format.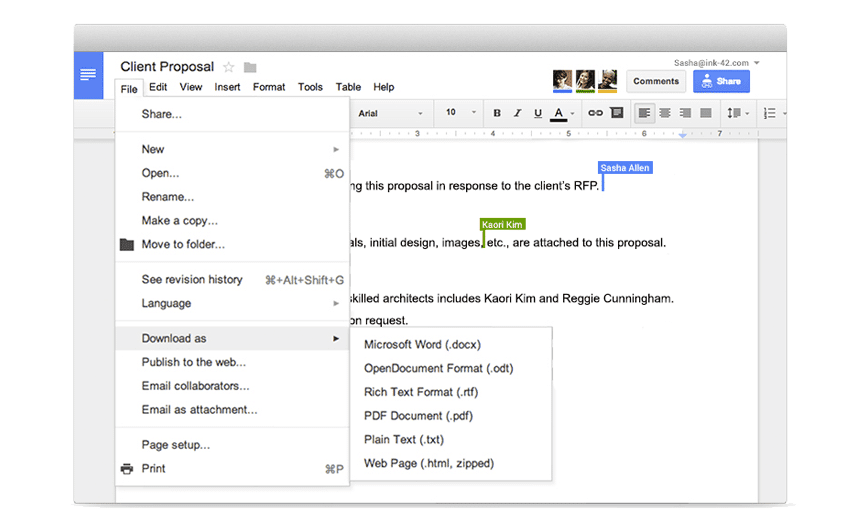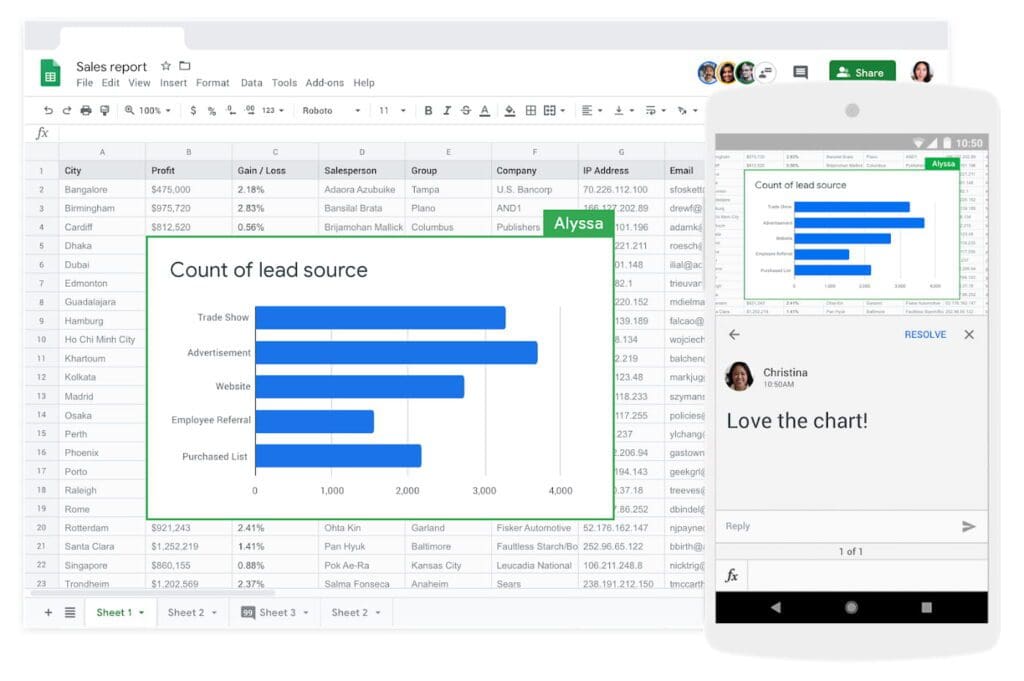 Collaborative, smart, secure spreadsheets for fast-moving organizations
Sheets was designed with the needs of agile organizations in mind. AI features mean you can tap into the right insights to make meaningful business decisions. A cloud-based architecture enables you to collaborate with anyone, anytime, anywhere. Compatibility with external systems, including Microsoft Office, removes the friction of working with multiple data sources.
Frictionless collaboration and information sharing
Easily add collaborators to projects, see changes as they occur, receive notifications for edits that happen while you're away, and chat with colleagues in the same document.
Work seamlessly across Sheets and Excel
Sheets opens up whole new ways of collaborating so that you can worry less about having the right version on file and focus on bringing your best ideas to life. Seamless compatibility with Microsoft files, including many of the keyboard shortcuts you rely on, reduces the friction of working across multiple platforms.
Easy to create surveys and forms for everyone
Create custom forms for surveys and questionnaires at no extra cost. Gather everything in a spreadsheet and analyze data right in Google Sheets.
Create a form as easily as creating a document
Select from multiple question types, drag-and-drop to reorder questions and customize values as easily as pasting a list.
Send professional looking surveys to customers
Great looking surveys help you connect with customers to gain valuable insights. Add images, videos, and custom logic to give people who respond a great survey experience.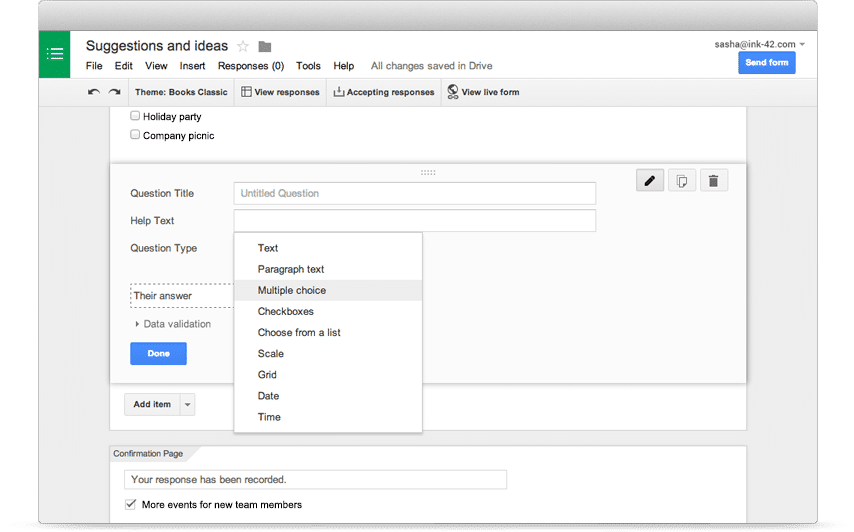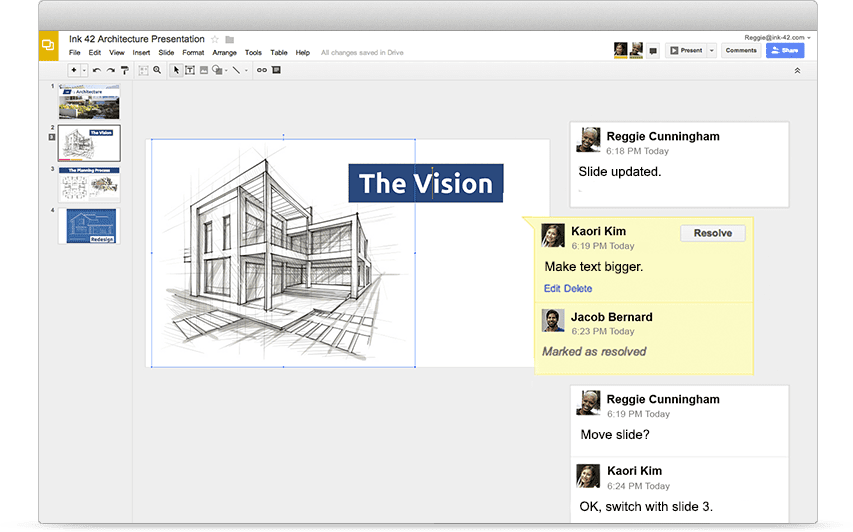 Beautiful presentations created together
Create and edit polished presentations in your browser—no software required. Multiple people can work at the same time so everyone always has the latest version.
Commenting, chat and real-time editing
Work on a single presentation online with your business partner, your whole team or external contacts. You control who gets permission to edit, view or just add comments.
Easy-to-design slides
Start from scratch or expedite the process by choosing a template. You can enhance your presentations with videos, images, drawings and smooth transitions.
Store, access, and share your files in one secure place
Store any and every file. Access files anytime, anywhere from your desktop and mobile devices. Control how files are shared.

Google Workspace's Business and Enterprise editions provide flexible storage options so you will always have enough space for your files.

With centralized administration, data loss prevention, and Vault for Drive, you can easily manage users and file sharing to help meet data compliance needs. Drive is also available as a standalone offering, with Drive Enterprise.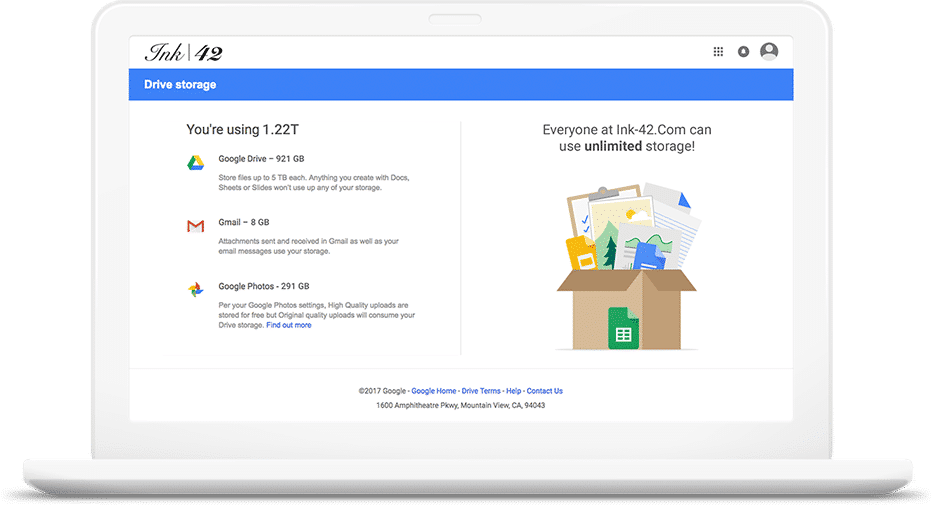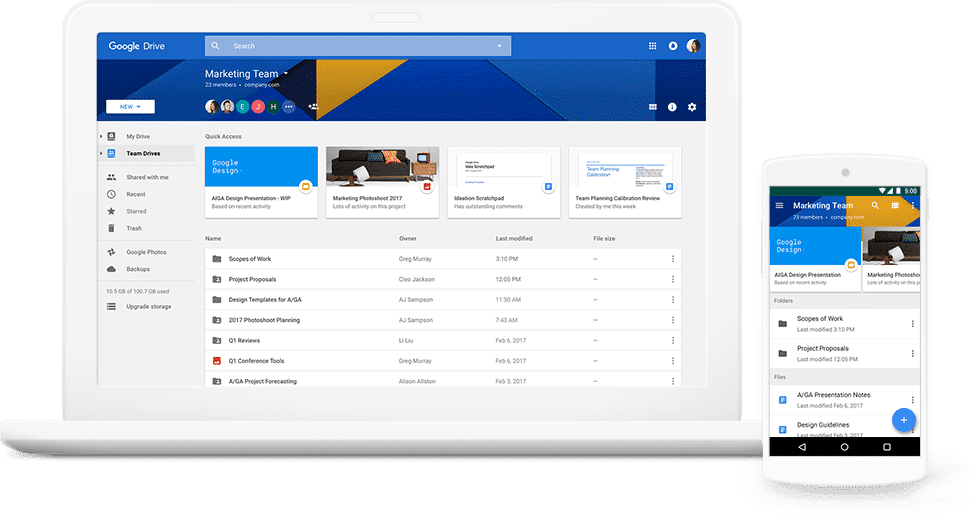 Find what's important before you've even searched
Drive uses Google AI to predict and surface what's important for you in real-time. Drive recognizes important content, collaborators and events, using features like Quick Access and ML-based search enhancements to connect each user with files that may require attention.
Organize team files in a shared space
Use shared drives to store your team's work in secure, easy-to-manage shared spaces. Any files added to shared drives are owned collectively by the team, so everyone stays up to date.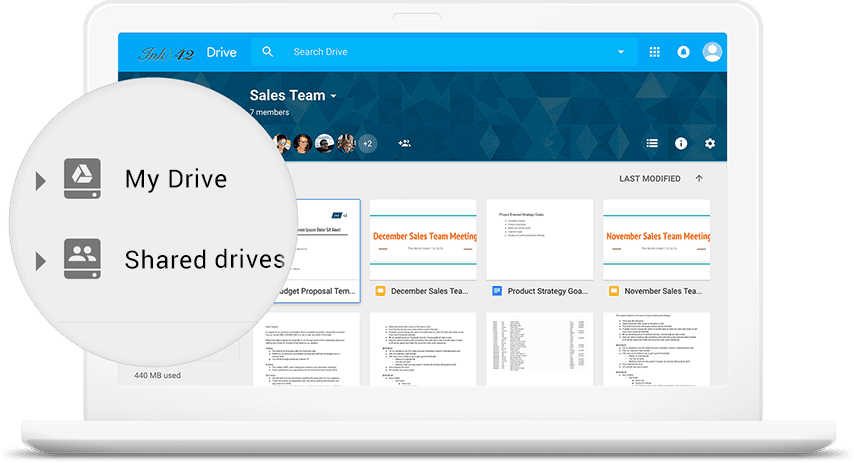 Use less of your PC/Mac disk space & stream directly from the cloud
Drive File Stream gives you access to files directly from your computer, without impacting all of your disk space. Spend less time waiting for files to sync and more time being productive.
Manage Google Workspace for your organization
Easily add users, manage devices, and configure security and settings so your data stays safe. Administration shouldn't need a manual.

Centralized administration makes setup and management fast and easy. Use integrated Cloud Identity features to manage users and set up security options like 2-step verification and security keys. Protect your organization with security analytics and best practice recommendations within the security center.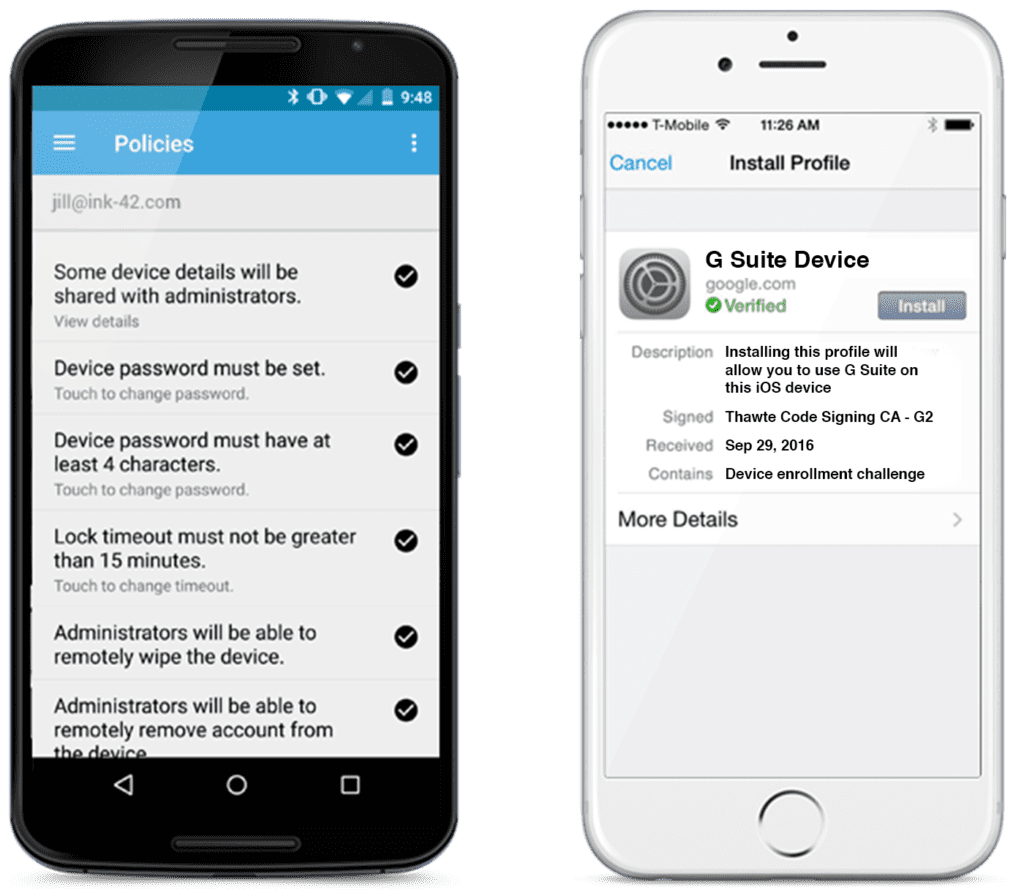 Endpoint management
Use endpoint management to distribute apps on mobile devices, check usage, manage security settings and limit access on any endpoint.
Data Regions and Access Transparency
Limit the geographical location of your covered Google Workspace data at rest. Make sure that users have full-feature functionality, even while data is being moved. Gain more visibility into actions taken by Google staff related to your data.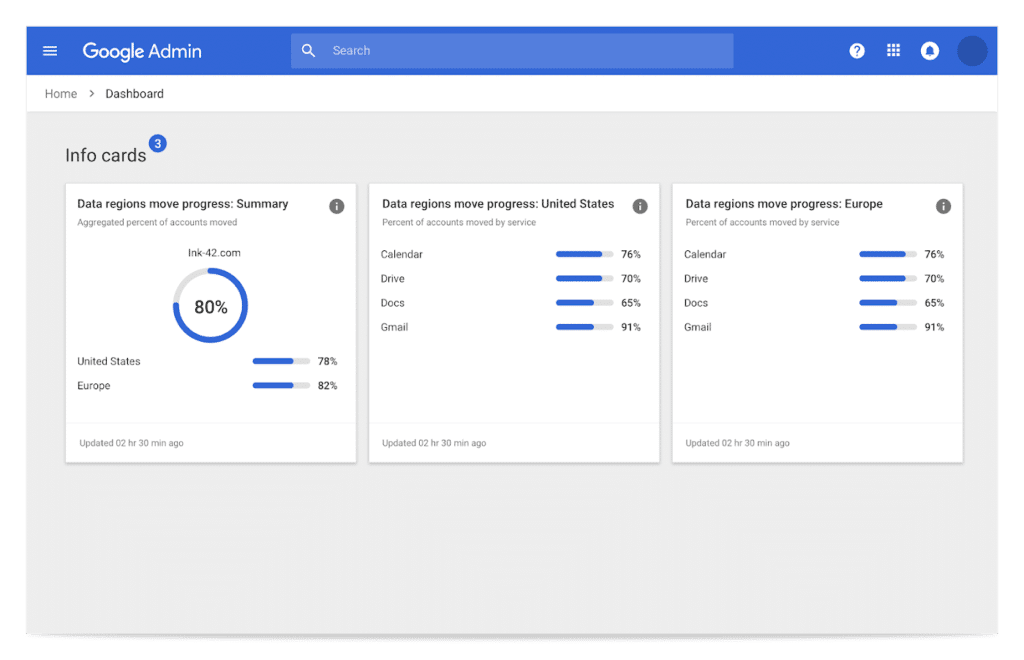 Protect your data and stay covered
Get a handle on things. Set retention rules and holds on data from certain Google Workspace apps for an entire domain or specific organisational units.

Retrieve valuable information, even from suspended accounts. It's a smart way to gather what your legal team needs and to prevent data loss from employee turnover.
Tap into Google Meet
Transform any space to a Google Meet meeting place with one-touch join, always-on readiness, and center of room control.
Everything you need
Logitech Room Solutions for Google Meet include everything you need for video meetings. Available in small, medium, and large configurations, these pre-configured systems include a Logitech conferencecam, Chromebox mount with cable retention, and the Logitech Tap touch controller.
Solutions for every room
It's easy to deploy Google Meet throughout the workplace. Just match a small, medium, or large configuration to each of your rooms, and then add accessories to suit your space.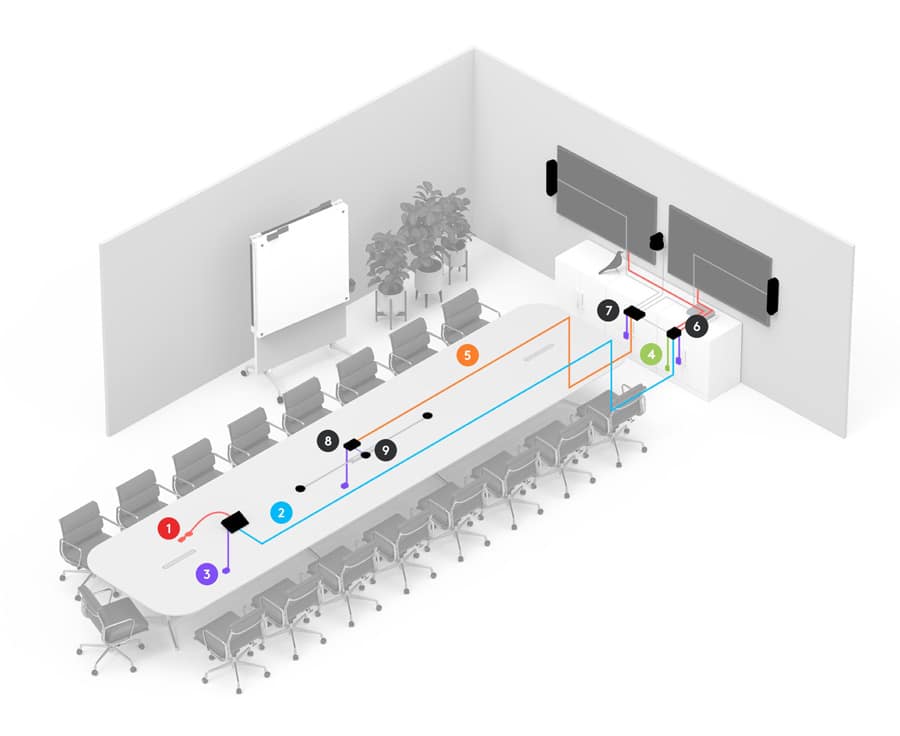 Resources and Support
Systems arrive neatly packaged and ready for installation, with printed documentation plus an online portal to guide the way.

With 10 meters of reach, the plenum-rated Logitech Strong USB cable lets you locate Tap near participants for convenient operation while installing the Chromebox in a cabinet, beneath a table, or behind a display

Google Workspace Frontline can help open up communication and collaboration channels between frontline workers and corporate teams in a way that's safe and secure, even from their own personal devices. It's a custom solution that includes communication and collaboration apps like Gmail, Chat, Meet, Docs, Drive, and more, as well as security features like advanced endpoint management that help keep a company's data secure.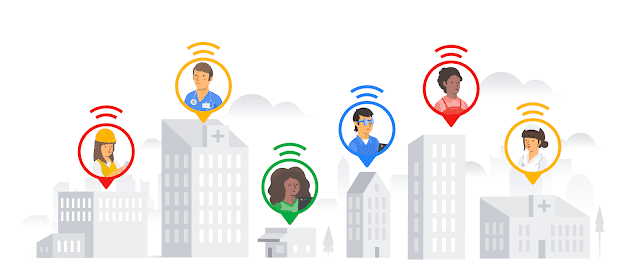 With Google Workspace Frontline, your employees will have access to:
Gmail
Google Calendar
Google Chat
Google Meet
Google Docs
Google Sheets
Google Slides
Google Sites
In addition, you'll get 2GB Drive storage per user and the ability to view content in shared drives. This offer also includes security features like advanced endpoint management, which enables admins to require strong mobile passcodes, set up work profiles for Android devices, manage apps forAndroid and iOS devices, and wipe devices remotely if needed.

For companies who may want to utilise different licences for different sectors Partial Domain Licencing provides that flexibility. It allows an organisation to mix and match Google Workspace tiers. When mixing across Business and Enterprise plans, there is a minimum purchase for Enterprise of 100 licenses, or 15% of the total number of users purchased.
Tooglebox
Providing a powerful set of tools that enhance Google Workspace functionalities.
Got a Question? We're here to help!
Contact us today if you have more questions about how Google Workspace can work for your business.
Drop us a line
Ready to grow your business? So are we!